Student Council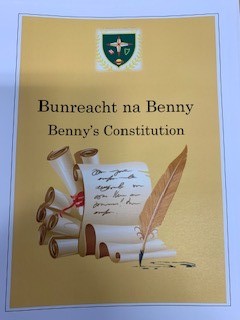 ROLE OF THE STUDENT COUNCIL
To work with the Principal to make school life better for the students. To give students opportunities for responsibility and leadership. To work with students, teachers and management in contributing to overall school development.
STRUCTURE OF THE STUDENT COUNCIL
Each person in the school votes who they want to be elected to the Student Council. Only 6th class can go for President and the person in 2nd place will become Vice President.
TERM OF OFFICE
The students from the council have one year until they either have to graduate or until it's a new school term when another President, Treasurer and Secretary are elected. Previous council members can be elected again.
STUDENT COUNCIL ROLES
President
Vice President
Secretary
Treasurer
Class Rep.
for Inclusion
MEETINGS
We have our meetings in the staffroom and we make plans and talk about what we might do in the future.
Our Student Council are .
Namish Das - President Sophia Kelly - Vice President Daisy Halpin - Rep. for Inclusion Clayton Smith - Treasurer Amber Evans - Secretary Caitlin Bride Ledden - 6th Class Class Rep. Savannah Kelly - 4th/5th Class Class Rep. Finn Callaghan - 3rd Class Class Rep. M.J. White - 2nd Class Class Rep. Georgia Chamberlain - 2nd Class Class Rep. Sophia Grant Morgan - 1st Class Class Rep. Lewis Duffy Riordan - 1st Class Class Rep. Abigail O'Toole - Senior Infants Class Rep. Alex Bracken - Senior Infants Class Rep. Ava McDonald - Junior Infants Class Rep Caiden O'Reilly - Junior Infants Class Rep.
St. Benedict's & St. Mary's N.S. Grange Park, Raheny, Dublin 5, D05 YK16 | Tel: 01 8470202